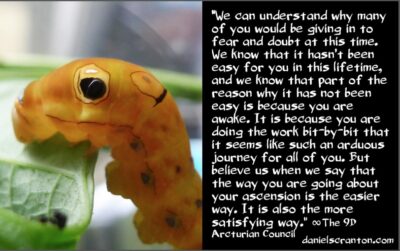 The Path You Chose for Your Ascension ∞The 9D Arcturian Council, Channeled by Daniel Scranton
"Greetings. We are the Arcturian Council. We are pleased to connect with all of you.
We can understand why many of you would be giving in to fear and doubt at this time. We know that it hasn't been easy for you in this lifetime, and we know that part of the reason why it has not been easy is because you are awake. It is because you are doing the work bit-by-bit that it seems like such an arduous journey for all of you. But believe us when we say that the way you are going about your ascension is the easier way. It is also the more satisfying way.
Read more via The Path You Chose to Your Ascension ∞The 9D Arcturian Council — Daniel Scranton's Channeling