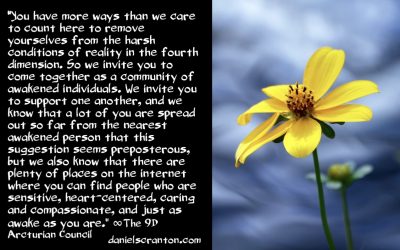 You Are Surviving the Fourth Dimension ∞The 9D Arcturian Council, Channeled by Daniel Scranton
"Greetings. We are the Arcturian Council. We are pleased to connect with all of you.
We have begun to appreciate the urgency with which many of you are seeking massive changes on your world. We see so many of you crying out and feeling the depths of despair over not fitting in, not wanting to be, not resonating with the majority of the human population, and we see this as the tragedy that you all experience it as. We are not going to attempt to minimalize what you are feeling and experiencing there on Earth as you wait for the massive changes that you've been promised time and time again.
Read more: You Are Surviving the Fourth Dimension ∞The 9D Arcturian Council — Daniel Scranton's Channeling