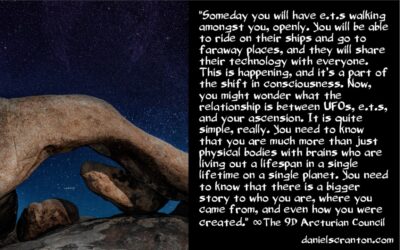 UFO Disclosure is Happening…What it Means ∞The 9D Arcturian Council, Channeled by Daniel Scranton
"Greetings. We are the Arcturian Council. We are pleased to connect with all of you.
We are as happy as many of you are about the disclosure that is taking place at this time on the topic of UFOs. This disclosure has been happening for quite some time, and every time that something else is disclosed, you get a bit more confirmation of what you already knew to be true. So what does this then signify for humanity? What does it mean when a country's military announces publicly that they have seen objects in the sky that they could not account for?
Read more: https://danielscranton.com/ufo-disclosure-is-happeningwhat-it-means-%e2%88%9ethe-9d-arcturian-council/