by: Sara Middleton, staff writer | August 14, 2021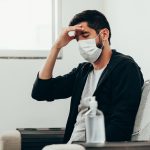 (NaturalHealth365) What is going on in Israel? Once lauded as the "world leader" in administering the COVID injection to its citizens, the country now appears to be witnessing a major fallout, leading to the reinstatement of a country-wide injection "passport" mandate and other measures.
According to the medical director of one of the country's premier respiratory care centers, the vast majority of people hospitalized with COVID-19 are now fully jabbed.
Read more: https://www.naturalhealth365.com/alarming-rates-of-breakthrough-cases-3937.html