by: Sara Middleton, staff writer | April 29, 2022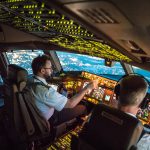 (NaturalHealth365)  Are we on the precipice of a major uptick in serious heart problems among otherwise young, healthy Americans due to the mass-disseminated mRNA COVID shots?  Observations from several medical experts, including a well-known Cardiologist, suggest that we are.
Some individuals who appear to be facing worrisome jab-related heart problems are commercial airline pilots.  Advocacy groups also say these pilots are being forced to keep mum about their health issues – and that a far greater percentage of them are likely suffering than the U.S. Federal Aviation Administration (FAA) would like to admit.
Read more: https://www.naturalhealth365.com/cardiologist-estimates-30-percent-of-u-s-pilots-may-have-covid-jab-induced-heart-conditions.html