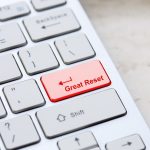 By: Sara Middleton | November 21, 2020
(NaturalHealth365) It's hard not to feel wary about economic initiatives that value big business over human well-being and autonomy. But with so much influence over society among the world's corporate leaders, critics can be easily overpowered. Just consider the latest initiative from a collaboration of business leaders called The Great Reset.
Spearheaded by the World Economic Forum, this reset pledges to promote widespread economic change to the direct "benefit" of the global population. But reading between the lines, many are calling into question just who exactly will benefit most.
Read more: https://www.naturalhealth365.com/great-reset-economic-change-3632.html