by: Sara Middleton, staff writer | December 21, 2021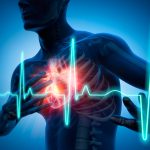 (NaturalHealth365)  A study recently published in Circulation, the journal of the American Heart Association (AHA), sounds a serious warning about the possible link between the mRNA COVID shot from Pfizer and Moderna and heart attacks.
Does this mean Big Pharma companies will actually be held accountable for the possible injuries, illnesses, and deaths their products are responsible for?  Not so fast, says one leading cardiologist.
Read more & short video: https://www.naturalhealth365.com/mrna-jab-link-to-heart-attacks-3485.html