by: Wendy Miller, staff writer | January 6, 2022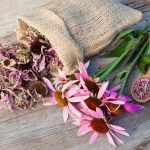 (NaturalHealth365)  As days go by, more and more people come to realize that supporting our bodies' natural defenses is the best strategy when facing invisible viruses and other potential invaders.  Thanks to Mother Nature's generosity, we do not lack natural ways to fight off viruses, strengthen our immune systems and maintain optimum health.
Thankfully, herbs like echinacea do exactly that, bolster our immune system and help our body fight off a variety of illnesses.
Read more: https://www.naturalhealth365.com/echinacea-offers-amazing-health-benefits-3503.html