by: Stephanie Woods | July 15, 2021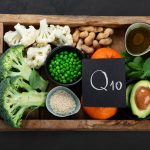 (NaturalHealth365) Coenzyme Q10, or CoQ10, is a nutrient found in many foods and occurs in the body naturally.  It is a powerful antioxidant that works to prevent cell damage, but it also has several cardiovascular advantages.  It is also a major component of metabolism.
Several studies show how CoQ10 helps cardiovascular function and its multitude of benefits throughout the body. While most healthy people do get enough of the nutrient naturally through their diet, some do choose to take supplements to address specific health conditions such as heart or inflammation.
There's more, though. This incredible nutrient is so beneficial to the body. Here are 10 health benefits of CoQ10.
Read more: https://www.naturalhealth365.com/coq10-health-benefits-3903.html