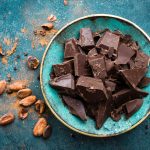 by: Sara Middleton, staff writer | May 3, 2021
(NaturalHealth365) Dark chocolate is one of those foods that tends to go through a revolving door in the media.  In one news cycle, we're told dark chocolate isn't a health food and is so high in calories that it should be avoided.  In the next news cycle, we hear that dark chocolate actually comes with many notable health benefits.
So, which is it?  The truth is, dark chocolate is generally considered to be beneficial for your physical and even mental well-being — provided you consume it in moderation.  And while you don't have to eat dark chocolate to live a healthy lifestyle, there are a few tips that will help you figure out how to choose the right dark chocolate brand if you want to add this sweet treat to your weekly diet.
Read more: https://www.naturalhealth365.com/dark-chocolate-benefits-3819.html