by: Sara Middleton, staff writer | July 16, 2021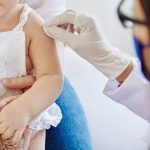 (NaturalHealth365) Earlier this month, a Pfizer executive stated during a virtual symposium with Johns Hopkins University that the pharmaceutical company hopes their experimental mRNA drug will be in the arms of children as young as 5 years old by September or October.  They're also hoping to get a COVID booster shot out soon in order to protect against the so-called Delta variant of the pandemic virus – even though the U.S. Centers for Disease Control and Prevention (CDC) insist booster shots aren't needed.
As a parent, do you have questions about your young child getting an experimental mRA shot?  Are you aware that many medical experts also question giving these shots to kids, too?
Read more: https://www.naturalhealth365.com/experts-call-for-delaying-covid-shot-to-kids-3904.html