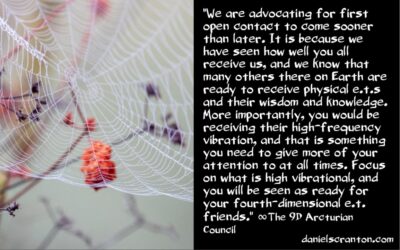 First Open Contact is Coming ∞The 9D Arcturian Council, Channeled by Daniel Scranton
"Greetings. We are the Arcturian Council. We are pleased to connect with all of you.
We are finding ourselves more and more significantly involved in a movement amongst all of the other beings throughout this galaxy to put Earth on the fast track for full, open contact, a mass landing of ships. We know that many human beings are not ready for that experience, but we also know that they can and will come around after a while, after the shock and fear are processed. We also know that the best candidates for first contact with humanity would be extra-terrestrial beings who looked a lot like you, and there are plenty of those e.t.s around.
Read more: https://danielscranton.com/first-open-contact-is-coming-%e2%88%9ethe-9d-arcturian-council/