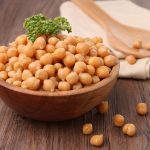 By: Lori Alton – November 11, 2020
(NaturalHealth365) Chickpeas, a familiar staple at salad bars, are customarily used to accent and complement a bowl of mixed greens. But these plump, beige little legumes shouldn't be thought of as merely a garnish to be tossed into salads.
Also known as garbanzo beans, chickpeas are gaining credibility as a true "superfood" – with research revealing that they are packed with disease-fighting micronutrients.
In fact, the diversity and power of the health benefits of chickpeas may surprise you. Here are four reasons to give chickpeas a regular place on your plate.
Read more: https://www.naturalhealth365.com/health-benefits-of-chickpeas-3621.html