by: Karen Sanders, staff writer | February 12, 2022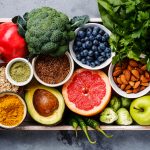 (NaturalHealth365)  We all know that we are what we eat; it's knowing what to eat that can prove difficult.  Your diet is a critical factor in your long-term health, and the overwhelming number of options by which we're surrounded makes it hard to know how to choose.
Around every corner is another diet craze, another food to avoid, another one to add.  It's all pretty dizzying.  Luckily, there is a simple solution to greater health and longevity.  In fact, this one simple diet change can increase your lifespan by as much to 10 years, a recent study says.  So what have you got to lose?
Read more: https://www.naturalhealth365.com/simple-diet-change-increases-longevity-3545.html