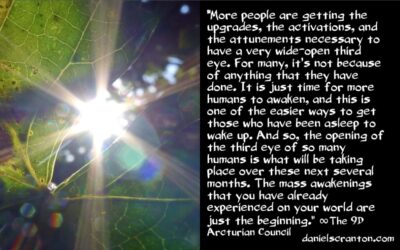 The Opening of Your Third Eyes ∞The 9D Arcturian Council, Channeled by Daniel Scranton
"Greetings. We are the Arcturian Council. We are pleased to connect with all of you.
We are very eager to witness all of you gaining more access to your clairvoyant abilities, your ESP, your sixth sense. We know that some of you came in with those gifts and abilities turned on, and others of you have developed those gifts since you've awakened. But there are still so many who have yet to tap in to these powers, and make no mistake about it, they do make a person more powerful.
Read more The Opening of Your Third Eyes ∞The 9D Arcturian Council — Daniel Scranton's Channeling