by: Sara Middleton, staff writer | September 10, 2021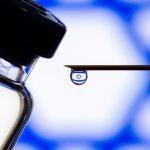 (NaturalHealth365)  Nearly 80 percent of eligible Israelis ages 12 and up have received their COVID injection.  Mass media outlets gloated over Israel for having "one of the swiftest vaccine rollouts in the world," according to the Associated Press. And yet the Israel COVID picture looks increasingly grim.
Between rising infection rates, an unknown number of upcoming booster shots, and admission by the U.S. Centers for Disease Control and Prevention (CDC) that the "effectiveness" of these jabs drops significantly after just six months – more and more people are doubting the vax narrative.  Are these drugs doomed to fail?
Read more: https://www.naturalhealth365.com/israel-is-proof-3968.html