Operation Disclosure | By Editor
September 13, 2020
The Corona Virus (P2) – Special edition [09/2020]
Read more via OpDis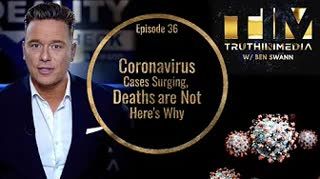 Source: Truth In Media
There has been a debate all over the world about whether to use face masks to avoid covid-19. Several scientific studies show that face masks do not help against the spread of viruses and that in case of incorrect use or type of error, they can increase the risk of getting sick from viruses. They also have other negative health effects.
Det har varit en debatt över hela världen om man ska använda ansiktsmasker för att undvika covid-19. Flera vetenskapliga studier visar att ansiktsmasker inte hjälper mot spridning av virus och att de vid felaktig användning eller fel typ kan öka risken att bli sjuk av virus. De har även andra negativa hälsoeffekter.
Video(12:46): https://truthinmedia.com/face-masks-according-to-science/
Credit: VAKEN.se
During the COVID-19 pandemic, public health experts began telling us to follow a number of disease mitigation strategies that sounded reasonably scientific, but actually had little or no support in the scientific literature. Community wearing of masks was one of the more dangerous recommendations from our confused public health experts.
The Pandemic Of Bad Science And Public Health Misinformation On Community Wearing Of Masks
Renowned neurosurgeon, Russell Blaylock, MD had this to say about the science of masks: →
Read more via HAF