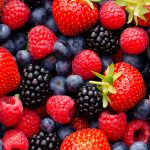 By: Joy Jensen – Oct, 18, 2020
(NaturalHealth365) You probably know about the popular adage, "you are what you eat."  Right?  Well, science continues to back that saying up … especially when it comes to your brain function.
Growing research supports the positive (and negative) effects of the foods you eat on your body, mind and spirit – in particular the brain.   That's especially true of foods containing flavonoids, which are found in many vegetables, fruits, and other plant products.  Rich in antioxidants, they work by powerfully warding off the threat of toxins, as well as other health benefits.
Read more: https://www.naturalhealth365.com/berries-brain-function-3593.html