by: Stephanie Woods | October 9, 2021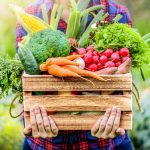 (NaturalHealth365) The foods that you eat not only impact your waistline and your physical health, but they also affect the way you think and feel. You've probably always heard that you are what you eat – and it's true, what you put in your body matters.
But, according to a review published in the March 2021 issue of Frontiers of Nutrition, it's what you feed your brain that really counts.
Read more: https://www.naturalhealth365.com/banish-depression-anxiety-3400.html