by: Lori Alton, staff writer | November 13, 2021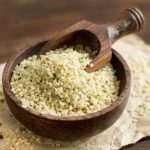 (NaturalHealth365)  Many foods are touted as "superfoods," but hemp seeds have the credentials to back up that claim.  In fact, no other plant-based food has such a perfect ratio of all the essential amino (and fatty) acids in such an easily digestible form for human consumption as hemp seed.
Their reputation as a superfood comes primarily from the significant amounts of alpha-linolenic acid (ALA) and gamma-linolenic acid (GLA) they contain.  These hemp seed benefits help to make hemp seeds a natural combatant for chronic inflammation, marking them as an important defense mechanism against chronic disease and the effects of premature aging.
Read more: https://www.naturalhealth365.com/hemp-seeds-anti-inflammatory-3441.html