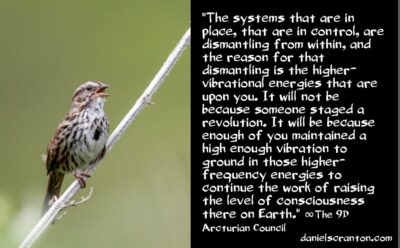 Dismantling Society's Systems of Control ∞The 9D Arcturian Council, Channeled by Daniel Scranton
"Greetings. We are the Arcturian Council. We are pleased to connect with all of you.
We are familiarizing ourselves with the systems that you have there on Earth, systems that were designed to maintain order. You set up these systems at a time when there was much more chaos on your world than there is today. Today what you have are the last remnants of a more uncivilized time, a more barbaric society, and you have the same tools in place to protect yourselves from disorder, from chaos, and from barbarians. In reality, you do not need as much order and control as you have there on your world.
Read more: https://danielscranton.com/dismantling-societys-systems-of-control-%e2%88%9ethe-9d-arcturian-council/