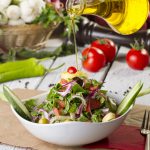 By: Joy Jensen – November 17, 2020
(NaturalHealth365) The Mediterranean diet has long been considered a heart-healthy diet, which consists of legumes, fruits, vegetables, nuts, whole grains, and healthy fats, including olive oil. And it turns out that olive oil could be key in the health benefits it offers.
A recent trial found that consuming extra virgin olive oil (EVOO) boosts cognitive function, making a case for using long-term intervention with the oil to boost brain health and performance. What was surprising was how supplementing with EVOO stacked up against following the Mediterranean diet alone.
Read more: https://www.naturalhealth365.com/olive-oil-cognitive-function-3628.html