by: Sara Middleton, staff writer | July 25, 2022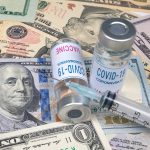 (NaturalHealth365) Not too long ago, when the media first began talking about new COVID shots from Big Pharma companies Pfizer and Moderna, experts and everyday people – all of whom were swiftly labeled "conspiracy theorists" – warned that these hastily made mRNA jabs would almost certainly give way to vax mandates and an endlessly increasing, vice grip-like control over individuals' bodily autonomy. One dose or even two doses would never be enough – Pharma and government officials would demand that people take three or more doses to function in society and put food on their families' tables.
Now, a recent move from the U.S. Food and Drug Administration (FDA) seems to perfectly exemplify this concerning prediction. The decision is sure to boost Pfizer's and Moderna's profits, paid for with taxpayer money. But will these shots actually "boost" Americans' health?
Read more: https://www.naturalhealth365.com/coming-this-fall-the-first-of-endless-new-covid-booster-shots.html