by: Sara Middleton, staff writer | July 17, 2021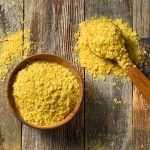 (NaturalHealth365) Yeast is a microorganism from the fungus family.  You probably know it for its role in raising bread dough and brewing beer.  But one type of this fungus, known as nutritional yeast, has recently been making waves in the vegan and vegetarian communities.
This unexpected food source contains an impressive range of nutrients and may offer some important health benefits.  Here's what you may want to know.
Read more: https://www.naturalhealth365.com/nutritional-yeast-benefits-3905.html